Have
Questions?
We're here to help answer any questions you may have. Please view our frequently asked questions below.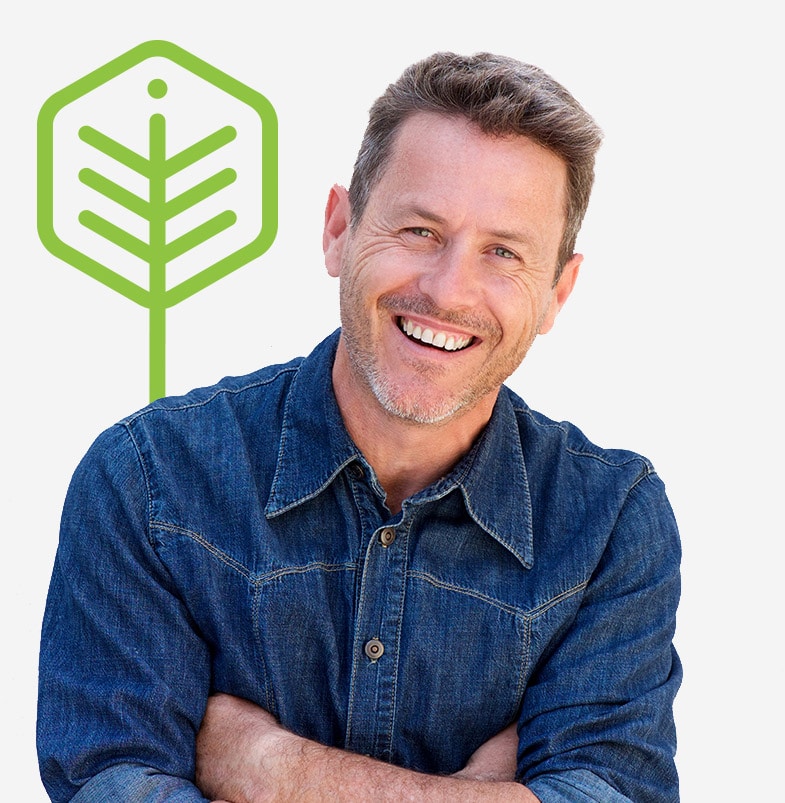 Frequently Asked Questions
ABOUT COVERLEAF
Are you a licensed producer?

No. Coverleaf is a clinic whose mission is to help Canadians obtain a prescription for medical cannabis. Our health care professionals will work with you to identify the best way to treat your medical condition or symptoms using medical cannabis.

Our medical cannabis clinic is located in Montreal, but we serve patients across Canada. Thanks to our telemedicine, those who live in remote or rural areas, those with limited mobility or those with anxiety-related concerns may all be connected with our doctors. We are committed to improving access to medical services for all Canadians. We have health practitioners ready for consultation in any province.

Why do I need a prescription?

The price of medical cannabis is often lower than the recreational market price. Medical prescription holders can also order their cannabis online from an authorized producer and have it delivered to their doorstep, even in provinces where such a service unavailable for recreational users. Furthermore, the cost of prescribed cannabis is income tax deductible, as it represents a medical expense. Employers are required to accommodate medical users. Prescription holders are also exempt from municipal bylaws which limit public consumption.
GETTING STARTED – PATIENTS
How do I become a Coverleaf patient?

Become a patient is easy! Just follow the steps listed on our homepage or click here to be contacted by a member of our staff. Once our team of healthcare practitioners has determined that medical cannabis is right for you, we will work together to select the best treatment plan. You will be registered with an authorized producer, and we can even help you obtain a license to grow your own.

How much cannabis can I order at one time?

Depending on your needs and medical condition, our doctors will prescribe a daily recommended quantity. Orders are discreetly packaged and shipped by Canada Post or Purolator. You can order as little or as much as you wish, up to your monthly allowance.

Can I buy cannabis on your website or at your location?

No cannabis is sold on our website nor at our clinic. We are not a dispensary. We offer insight on what we believe is right for you and will assist you in selecting a licensed producer.

What services can I access through Coverleaf?

We offer telemedicine consultations for patients with reduced mobility or other difficulties.
If you are facing processing delays with Health Canada, you can meet with our in-house lawyer who can expedite your application. We guarantee that your personal information will remain totally confidential.
Our staff nurses facilitate your medical assessment. The medical team will walk you through the process and educate you on the best use of cannabis for your specific condition.
If you wish, we can connect you with support groups near you.
We can also prepare your file if you prefer to grow your own cannabis. We view gardening itself as therapy.

Check out our process to find more about what we do. You can also follow us on social media to stay informed of activities and upcoming events.

How long does it take for a patient to register with a medical cannabis licensed producer?

Within 24 hours of completing this form, our medical coordinator will be in touch to book an appointment with a health care practitioner. The appointment normally takes place within 2 business days. The current wait-time to receive your medical cannabis prescription is about 5 business days following your initial consultation. Once you receive your prescription, we will speak again to connect you with the right licenced producer for your needs.

Do I have to be Canadian citizen?

No. Patients must reside in Canada to be registered with a licensed producer. Patients are not required to hold a specific residency status or Canadian citizenship.

Can I grow my own cannabis?

Yes, it is possible. A special set of regulations is in place for patients who wish to obtain a Personal or Designated Production License from Health Canada. We specialize in completing to fruition the required licencing paperwork.

In Canada, anyone willing to grow medical cannabis for personal use is entitled to do so. It is also possible to designate someone to grow on your behalf. We can recommend the best suppliers from which purchase your starting materials such as seeds, plants, organic soil materials, nutrients, lighting and ventilation equipment.
FOR PATIENTS
I received notice that my doctor has issued my cannabis prescription. What's next?

Once your prescription has been issued, you can expect a call from our medical coordinator to schedule a follow-up appointment with a nurse. Our team will ensure you understand the treatment options and the wide range of medical cannabis products available.

What are the benefits of Coverleaf?

The Coverleaf service provides multiple benefits. Your prescription will remain valid for the maximum legal period of 12 months. Our staff offers on-going education and support, assistance with the renewal of your prescription and help with registration with a licenced producer, making the whole process feel like a breeze. There are no hidden fees.

What if I don't have a family doctor?

Unfortunately, this is quite common. Not to worry! Our medical team can manage your cannabis treatment. Coverleaf doctors will continue following up with you until you find a family doctor.

I do not see my doctor regularly. Can anyone else help with my cannabis treatment?

The doctor who issued your prescription is responsible for your treatment. You can always speak with our medical team. They will gladly answer any questions you may have regarding your medical cannabis treatment.

How do I renew my medical cannabis prescription?

To avoid any gaps in your treatment, we recommend booking an appointment with Coverleaf 30 days before your prescription expires.
FOR PHYSICIANS
How do I refer patients to Coverleaf?

Our relationship with health care practitioners is very important to us. In order to refer a patient, simply fax (1 888 726-8575) or email a duly completed referral form. To learn more about our services, please contact our medical coordinator at info@coverleaf.ca or by phone at 1 (844) 710-GROW (4769).

How do I know if a patient is a good candidate for medical cannabis?

If you think a patient might benefit from a consultation, please feel to refer them using this form.

Do health care practitioners need a license to authorize medical cannabis?

No special license is required for physicians to prescribe medical cannabis. However, health care practitioners must follow strict guidelines which are dictated by the province in which they practice.

Which health care practitioners can authorize medical cannabis?

According to provincial guidelines, only physicians can authorize medical cannabis. Nurse practitioners may also authorize medical cannabis, depending on the province's health care system.
COSTS
How much does medical cannabis cost?

The variety of medical cannabis products offered and their cost will vary from one licensed producer to the next. Our team will help you make decisions based on your needs and your budget. Although we cannot offer any discounts with licenced producers, we can help you explore options that fit your budget.

Certain licenced producers offer compassionate pricing for patients in low-income households. Ask us for details.

Is medical cannabis covered by my insurance?

Manulife, Sun Life and a number of other Canadian insurance companies have begun including medical cannabis to group coverage. However, a drug identification number is required for the reimbursement of prescriptions, which cannabis currently does not have. It's always best to check with your insurer before submitting a claim for medical cannabis.

Veterans Affairs Canada reimburses the cost of medical cannabis through Blue Cross coverage. In certain provinces, disability insurance will cover medical cannabis, such as Quebec's Commission des normes, de l'équité, de la santé et de la sécurité du travail.

What is compassionate pricing and how do I apply?

Some licenced producers offer compassionate pricing for those who qualify. We can help you with the application.

Does medical cannabis have a DIN?

No Drug Identification Number (DIN) exists for natural medical cannabis products. Health Canada has assigned DINs to synthetic cannabis products Sativex® and Cesamet®. However, growing evidence demonstrates that synthetic cannabis can have harmful effects on one's health. Coverleaf recommends the real thing.

Am I eligible for a medical tax credit?

Yes. Prescribed medical cannabis is eligible for a medical expense tax credit under the Access to Cannabis for Medical Purposes law. You can legally claim up to $2,302 or 3 percent of your net income.
LEGALITY
How do I prove my prescribed cannabis is legal?

A copy of your prescription or the registration document that comes with your first order can be used as legal proof. Ordinarily, the container will include your name and information on the label which is legal proof as well.

Can I purchase my prescribed cannabis at a dispensary?

No. Your medical cannabis treatment, dosages, and methods of administration are unique to you. We create individualized treatment plans using products that may not necessarily be available at a dispensary. Also, retail dispensary purchases are ineligible for tax credits. There are hundreds of licenced producers from which you can obtain your prescription and promptly have it delivered to your doorstep.
GENERAL QUESTIONS
Can I become addicted to cannabis?

While there is potential for addiction, it is highly unlikely. According to a 20-year long study led by the World Health Organization, less than 1 in 10 people who try cannabis become addicted, compared to 32% with nicotine, 23% with heroin, and 15% with alcohol.

Can my symptoms and condition be treated with medical cannabis?

Based on emerging clinical studies, many symptoms and conditions can be treated with medical cannabis. Conditions improved by using cannabis include cancer-induced nausea, Type 2 diabetes, two forms of epilepsy, HIV-induced weight gain, irritable bowel syndrome, migraines, multiple sclerosis, osteoarthritis, rheumatoid arthritis, chronic pain, post-traumatic stress disorder, sleep disorders, and traumatic brain injury.

If your symptoms or condition is not listed above but you believe medical cannabis could improve your situation, please do not hesitate to contact us.

Does medical cannabis have to be smoked?

No. Smoking carries some health risks and may be difficult for some people. Vaporization is prioritized over smoking. You can try several other forms of medical cannabis such as oil, edibles, beverages, sublingual spray, tincture or infused lotions. Each method has a different bodily absorption rate. Our team can provide information about nutritional planning and share several healthy which could substitute smoking.

Can I use medical cannabis while I'm in the hospital?

Yes, hospitals do normally allow the use of medical cannabis. However, hospital policies may differ and it's best to inquire with your hospital's staff.

It's difficult for me to receive mail at home. Can my medical cannabis be shipped to an alternate address?

Yes. Patients in a long-term care facilities, shelters, hospices, or who simply need privacy can have their prescription sent to their physician's office. You must first obtain permission from the institution or healthcare provider and have them complete a specific section of your registration application.

Can I drive after using medical cannabis?

Medical cannabis can impair drivers. It is recommended that patients wait at least 4 hours after inhaling cannabis and 8 hours after eating or drinking cannabis products before driving. Please note that these are general guidelines and that each individual will react to cannabinoids (especially THC) in a slightly different way. Cannabis may impair some people longer than others. If you are less experienced with cannabis use (a year or less), take extra caution in assessing your level of impairment and avoid driving in case of doubt.

How quickly do my cannabis products expire?

Most dried cannabis products have no determined expiry date. After about 90 days, the chemicals in cannabis start to change. Of course, the way you store your cannabis product will greatly impact its shelf life. If it is too humid, there is a risk of mold growth. When dried cannabis degrades, the active ingredients held in THC and CBD lose their potency.

Is medical cannabis safe?

Yes. Licensed producers must follow very strict standards set by Health Canada. Medical cannabis is lab-tested and grown pesticide-free to ensure quality and to protect patients with weakened immune systems.
You can't find the answer here?
Please don't hesitate to send us an e-mail.